Okay, this is basically a Roleplay based off of "The Grudge and Ju-on"
There is a protagonist...it's the first person I choose randomly.
The antagonist is me...the ghost of Trevor Saeki.
Here's the story:
Trevor and his husband, Jay, move into a house. They live happily, but Trevor wants a son. So they adopt. After adopting, they name their new son, Apollo. Years after, Trevor is 28, Jay is 30, and Apollo is 6. Trevor enrolls Apollo into school and develops a crush on his teacher, Jerome. He journals about it everyday. Well, one night at the Saeki home...Trevor is down stairs cooking chicken. Jay is going through Trevor's things and finds his diary. As he reads, Trevor comes up the stairs. He walks into the room and discovers Jay reading his diary. Jay begins to attack Trevor and Trevor sprains his ankle. He crawls down the stairs, and grabs the doorknob...but Jay snatches him by his hair and snaps his neck at a 90. Trevor is paralyzed and alive. He watches as Jay drags his son to the bathroom and drowns him and his cat. Then, he's dragged up the stairs by his hair where he's tortured until he dies. Then he's placed at the back of the attic. Apollo is placed in the closet of his room. Jay goes insane, but he stays in the house.
Meanwhile, Trevor is in the attic reawakening as an Onryo. He hangs his husband using his hair, and The Curse begins. Anyone who walks into that house is destined to die. The Curse never forgives, and it never forgets. Nothing escapes, nothing is spared.
A family is killed in the house after the original deaths. You are a detective. You and your entire team are to investigate the house. You all are human until death, that is if you walk into the house.
Name:
Appearance:
Backstory (Optional):
Powers (Sensitivity, Clairvoyance, or Psychic Shield. Those are the only three you can have):
@K5S14 and any others joining, I'll put the link up later.
Trevor looks like this as a human:
Like this as a ghost: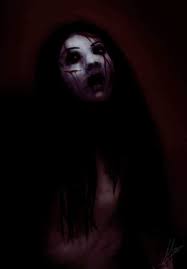 I should explain the sensitivity and all of that!
Sensitivity is the ability to only sense The Curse, you won't see it until you're Cursed.
Clairvoyance is the ability to see The Curse, but only when you're affected.
Psychic Shield is the ability to shield your mind against The Curse, but only against Psychic attacks.