NAME: 667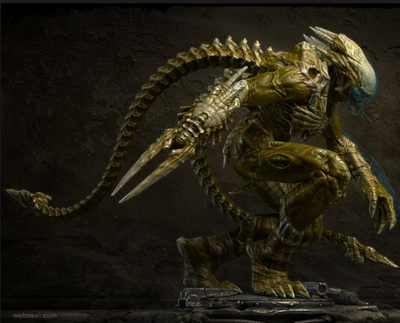 Occupation: alien experiment 
Powers: 
Feral mind (Xenomorph) 
Stealth tactics (Xenomorph)
Supernatural strength, speed, and agility ( Yautja)
cyberorganic physiology (reaper technology)
Bio-technology (Zerg)
Evolution (flood)
Weaponized body
Backstory: 667 is a hybrid experiment made up of different alien races:
Xenomorphs:http://avp.wikia.com/wiki/Xenomorph_XX121_(Alien)
Yautja:http://avp.wikia.com/wiki/Yautja_(Predator) 
Reaper technology:http://masseffect.wikia.com/wiki/Reaper 
Flood:http://halo.wikia.com/wiki/Flood
Zerg:http://starcraft.wikia.com/wiki/Zerg
When 667 was created. His first instinct was to its creators and slaughter a few worlds. Gaining a reputation that rivaled the feared doomsday ( https://en.wikipedia.org/wiki/Doomsday_(comics). 667 continued to destroy and slaughter entire spieces and mutating from their remains to become the perfect apex predator. There is a rumor it could have played a part in the near human genocide (http://powerlisting.wikia.com/wiki/User_blog:Cursed_warrior_343/Corvus).
667 is not a godlike being but rarely something you would want to fight. It combines the killing traits of 5 alien races and keeps evolving from new ones. 
Community content is available under
CC-BY-SA
unless otherwise noted.