Name: Sable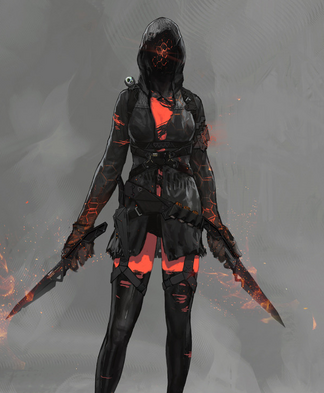 Powers:
Stealth Tactics
Unstable Chaos Energy Manipulation
Backstory: Sable is a psychopathic assassin bent on killing everything she sees. Before that she was once Stella Reqast, an agent of The Pluto Regime. One of the last and best operatives they had she was forcefully submitted into a project to replicate Lastius' foot soldier's enhancements. However, the resulting experminent went terribly thanks to the Pluto Regime's inferior scientists. The result of the experiment was Stella being transformed into an unstable being of chaos and instability. But it wasnt that misfortunate event that made her insane. Unknown to all, Stella's newfound body adapted to the emotions of not just herself but other people. She was an outcast to her fellow teammates which she would have gotten over if it wasnt for her new physiology. This combined with the fact that war is filled with suffering and misery caused changes in her personality. It reached its most dangerous stage when one time while being assigned to an outpost she snapped and brutally murdered everyone there. By the time The Pluto Regime's task force arrived it was to late, she killed everyone in the outpost and disappeared without a trace. Recently she has furthur deteriorated and has gone furthur from sanity. Lastius intends to use her elimination as a PR strategy to get furthur support from nations
Personality
Sable started out as a steely, by-the-book, authoritian kind of person with a hidden compassion for her friends and allies. But after the botched experiment she became more violent and cruel. Eventually become unbalanced and incoherent.
Community content is available under
CC-BY-SA
unless otherwise noted.