Main Talk Page
Leave your messages here below. Make sure to state the subject before leaving your message. Leave your signature as well. I won't answer those that don't follow the rule. Thank you for your patience and have a nice day.
Messages:
Editing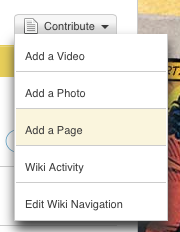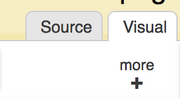 Heya. Thanks for writing back with greater detail. It helped me better understand what you and SageM were talking about, and then to replicate your issues. Since I pretty much exclusively work with source mode, I had to go back to school and figure out what was going on and why you two were having problems.
First, though, I just want to make sure that we're all using the same setup, because there are certainly ways you can set up your account so that you appear to have selected the VE as your main editor, but you don't get the VE served to you.
If all this is basic, I apologise. In some ways, I'm saying it more for my own benefit than yours. But the only way I've found to use the VE to start a new page is if:
your Special:Preferences have the new VE set to be your preferred editor
and if you've elected not to abandon the standard "start a page" flow
and if you chose to "Add a Page" from the "contribute" drop-down
All three of those things have to be true in order to start a page with the VE. This is probably why most people actually don't use the VE to start pages, and why your issues with it are new to me.
So you can start a page with the VE. But the thing is, it's not a very fast way to do it. The VE was meant more as a way to quickly change portions of a page. It's not a very fast way to create a whole page.
Since you've said that you have no difficulty using VE to edit a pre-existing page, here's what I'd recommend you do.
Copy a skeletal outline of a whole page that is working how you like it. (I think I saw that you guys had such an outline somewhere around here, but it'd be easy to create one, if not.) Make sure that there are "dummy values" for all the variables you want to use.
Pull down the "Contribute" button to "Add a page".
Name your page, and the empty VisualEditor pane will pop up.
Press Shift-Command-[ to bring up the source editor (or just pull the dropdown menu next to the "Cancel" button down to "Source Editor")
Paste your skeletal outline into place, and apply it.
Once you've applied it, you're now back in Visual Editor and will find that you can edit the infobox.
That's it! Once you've set up your skeletal outline well, the whole thing takes maybe 30 seconds. And it's way faster than trying to use the VE to completely edit the page from the start. I hope you find that helpful. If you run into difficulties, lemme know! -- CzechOut
21:29, August 17, 2016 (UTC)
Cosmic Water Manipulation page
I can't confirm what you've reported. The image below shows what I see. When I use my browser's inspector to see the size of the image, it registers at 320px, not something extremely enlarged. Perhaps you could take a screenshot for me to show me what you're seeing?
I will say that it's probably unwise to stretch a .gif from it's native 214 px to 320px. Gif is very "lossy" format, and it's starting to show some pixelation because it's been enlarged by around 33%. -- CzechOut
18:22, August 18, 2016 (UTC)